Are you working on Cloud Computing at Cornell?
Faculty
Cornell researchers are identifying and tackling fundamental challenges in cloud computing and exploring new visions of what the cloud can be.
A list of Cornell faculty working in Cloud Computing from multiple Departments.
Kenneth P. Birman
Professor, Computer Science

Research focus: I have worked in Cloud Computing for most of my career, although it obviously was not called cloud computing in the early days. Some examples of mission-critical systems on which my software was used in the past include the New York Stock Exchange and Swiss Exchange, the French Air Traffic Control system, the AEGIS warship and a wide range of applications in settings like factory process control and telephony. Current research revolves around my Isis2 Cloud Platform.
Robert L. Constable
Professor, Computer Science

Research focus: I head up the PRL research group in automated reasoning and formal methods. Starting in 1983 and continuing to this day, along with over forty collaborators, we have built, used and extended the Nuprl interactive theorem prover and the Logical Programming Environment it supports. Currently Nuprl is used in creating correct-by-construction distributed protocols. Nuprl's implementation since 2000 is itself a distributed system.
Nate Foster
Assistant Professor, Computer Science

Research focus: My research focuses on problems in programming languages, data management, and security. Some topics of interest include semantics, type systems, bidirectional languages, provenance, data synchronization, and mechanized proof. Recently I have also been working on domain-specific languages for networks.
Johannes Gehrke
Professor, Computer Science

Research focus: I am developing algorithms and building systems for making the cloud easy to program especially in the areas of database systems, data mining, and data privacy. more »
Carla Gomes
Professor, Computer Science

Research focus: My research covers several areas in artificial intelligence and computer science, including the integration of constraint reasoning, operations research, and machine learning techniques for solving scale constraint reasoning and optimization problems, complete randomized search methods, and algorithm portfolios, planning and scheduling, and multi agent systems. My central research themes are the integration of concepts from constraint and logical reasoning, mathematical programming, and machine learning, for large scale combinatorial problems; the study of the impact of structure on problem hardness; and the use of randomization techniques to improve the performance of exact (complete) search methods. More recently, I have become deeply immersed in research in the new field of Computational Sustainability, which aims to apply computational techniques for balancing environmental, economic, and societal needs for sustainable development.
Zygmunt Haas
Professor, Electrical and Computer Engineering

Research focus: The goal of my research is the proliferation of wireless and mobile communication, so as to allow ubiquitous, multi-media access to information and services by mobile and stationary users. My research interests concentrate on two fields: Wireless Communications and Mobile Systems, and Biologically-inspired Complex Systems and Networks.
Joseph Halpern
Professor, Computer Science

Research focus: My research focuses on reasoning about knowledge and uncertainty, and its applications to distributed computing, AI, security, and game theory, although I've also done work (and continue to be interested in) such topics as fault tolerance in distributed computing, modal logic, program verification, and programming language semantics.
Michael W. Macy
Professor, Sociology and Information Science

Research focus: My research explores how norms, opinions, emotions, and collective action emerge and spread through local interaction. The motivating problem is one that defines the human condition: the overwhelming need for norms that constrain aggressive and mutually destructive behavior is no guarantee that such rules will emerge or be obeyed by anyone except a few "suckers." On the contrary, norms can even make matters worse, by obligating people to engage in behaviors that are individually and collectively harmful. It is not hard to explain why people comply with socially undesirable norms in the face of social pressure, but why would a skeptical population enforce these norms in the first place? My research team uses computational models, laboratory experiments with human subjects, and data from online networks to look for elementary principles of social interaction that may yield clues about possible answers.
Andrew Myers
Professor, Computer Science

Research focus: It is too hard to build trustworthy software systems using conventional systems APIs. I work on higher-level, language-based abstractions for programming that better address important cross-cutting concerns: security, extensibility, persistence, distribution.
Rafael Pass
Associate Professor, Computer Science

Research focus: My research focuses on Cryptography and its interplay with Computational Complexity and Game Theory.
Ashutosh Saxenah
Assistant Professor, Computer Science

Research focus: How can robots operate autonomously in unstructured environments? I design learning algorithms to help robots perceive the environments so that they can perform tasks such as open doors, pick up novel objects, unload items from a dishwasher, fly around without crashing into obstacles, and more. I am also interested in developing new machine learning algorithms, especially ones that can handle high-dimensionality of the perceptual space (e.g., CRFs), while also considering the actions in time (e.g., reinforcement learning).
Christine A. Shoemaker
Professor, Civil and Environmental Engineering

Research focus: Cost-effective, robust solutions for environmental problems using optimization, modeling and statistical analyses. This includes development of general purpose, numerically efficient nonlinear and global optimization algorithms utilizing high performance computing and applications to data from complex, nonlinear environmental systems.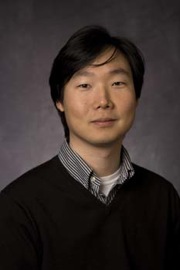 G. Edward Suh
Associate Professor, Electrical and Computer Engineering

Research focus: My research interests include computer systems in general with particular focus on computer architecture. I am interested in combining architectural techniques with low-level software to enhance various aspects of computing systems such as performance, security, and reliability. You can find more on my current research projects from my group website.
Robbert van Renesse
Principal Research Scientist, Computer Science

Research focus: I am interested in distributed systems, particularly in their fault tolerance and scalability aspects. My current research projects are Elastic replication, Fault-tolerant TCP for a stable BGP, and Correct-by-construction Fault-tolerant Distributed Systems. See my page for details.
Hakim Weatherspoon
Assistant Professor, Computer Science

Research focus: My research interests cover various aspects of information systems, distributed systems, network systems, and peer-to-peer systems. In these areas, I particularly focus on fault-tolerance, reliability, security, and performance of Internet-scale systems with decentralized---autonomous, federated, multi-organizational, and cooperative---control.
David Williamson
Professor, School of Operations Research and Information Engineering and the Department of Information Science

Research focus: finding efficient algorithms for hard discrete optimization problems, with a focus on approximation algorithms for problems in network design, facility location, and scheduling. Other interests include algorithms for information networks.
Researcher Staff
Jed Liu
Postdoctoral Associate, Computer Science

Research focus: Programming languages, distributed systems, and security.