Expanding the limits of cloud computing.
Cloud Computing @ Cornell
JOIN US!
Are you working on Cloud Computing at Cornell?
If you would like to be part of the Cloud Computing @ Cornell hub
send an email summary »
Cloud Computing @ Cornell highlights the multi-disciplinary Cloud Computing projects from across Cornell. We are a hub to connect faculty and students working in the field.
What is Cloud Computing?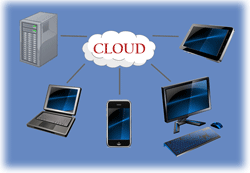 Clouds are large computer networks that connect communications, data, applications and computing to devices such as laptops, desktops, phones and tablets. They allow us to search the web, connect to others, share videos, and shop online.
Clouds have fundamentally changed the way we interact with each other and our devices providing large scale connections and efficiency.
Research on Cloud Computing
Fundamental research opportunities have developed by cross-connecting existing fields to understand how we build and use clouds. This extends to social science, social networks, data-driven computation and cloud infrastructure. Research at Cornell investigates networking, consistency, scalability, security, energy efficiency, privacy, social behavior, policy and law.